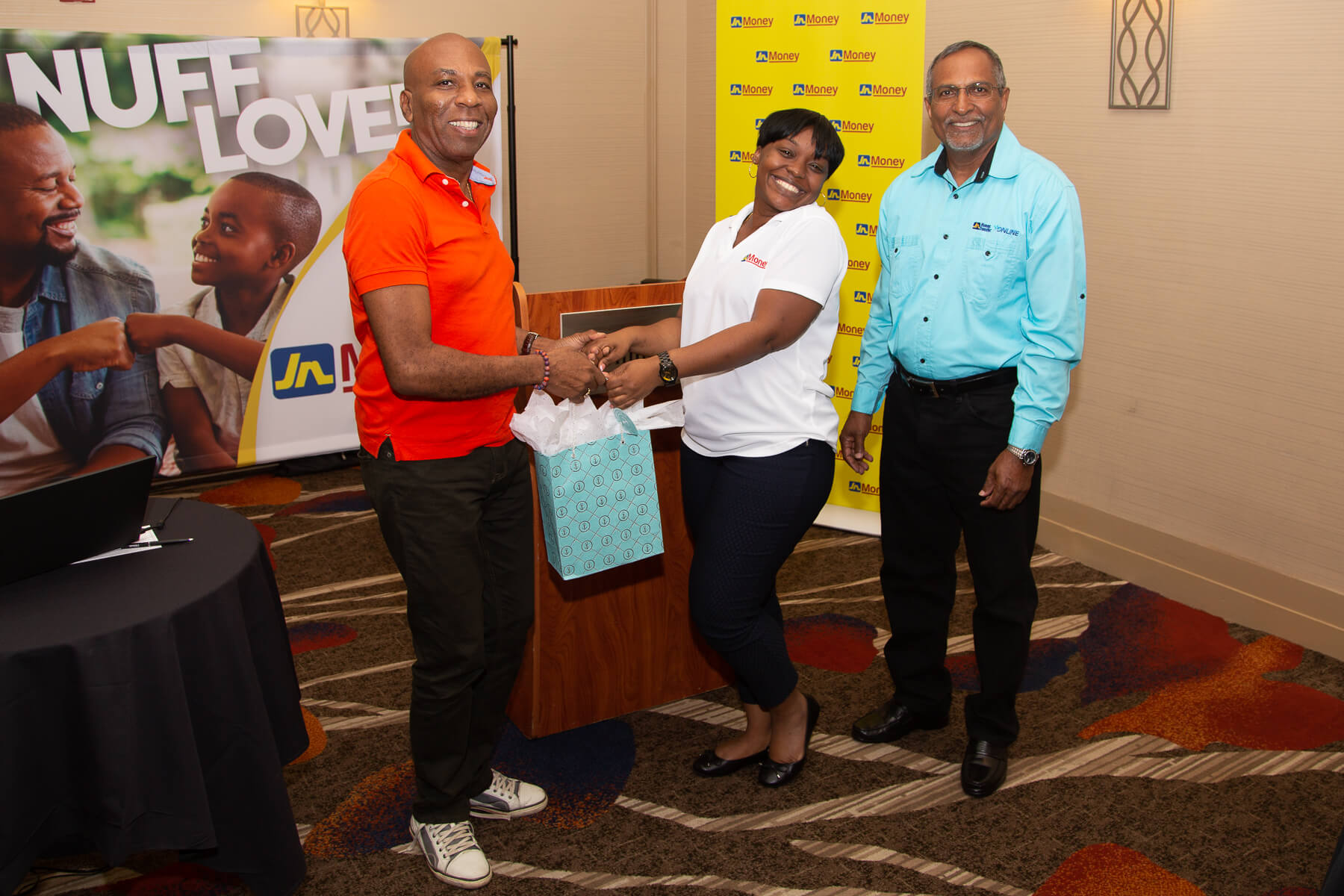 Kimberly Dawkins Jones receives her plaque from Andre Latty after being named Teller of the Year.
JN Money Services Teller Kimberly Dawkins-Jones describes herself as reserved but very competitive. And it was this competitive streak that pushed her to become the Teller of the Year for JNMS USA North East Region.
Mrs. Dawkins-Jones who has been with the region for the past two years, was named Teller of the Year in May, after she exceeded her targets for the year. The JNMS North East Region comprises locations in Brooklyn, Queens and Bronx in New York
"I am competitive so I was determined to give it my best and it paid off for me," she said. "I expected to win after exceeding all my targets during the year."
Mrs. Dawkins-Jones joined the JNMS family after a friend told her about the vacant post. Since joining the team she has worked at all locations New York.
"Our customers are colourful and you have to know how to deal with each one," she sated. "Some are quiet while others are more outgoing. But, they use our services because they like the family atmosphere as well as the customer friendly environment and we try to accommodate them as best as possible."
Mrs. Dawkins-Jones says she has had many pleasant experiences as a teller.  Her most memorable experience has been of a customer, Everton Ellis, who travelled two hours to conduct a transaction at the Bronx location.
"He came all the way from Queens to the Bronx location which is more than two hours away to conduct a transaction because he had heard about our service. It really warmed my heart to know that someone appreciated our customer friendly environment so much, that he was willing to take that trip to use our location," she said.
Although Mrs. Dawkins-Jones enjoys working at all the locations, she says the Bronx location is perhaps her favourite.
"On weekends we can get more than 100 persons and so we are always busy," she said. "I enjoy being busy so I don't mind the heavy traffic."
The teller who enjoys going to the gym and shopping, hopes  to one day become an entrepreneur. For now though, she is cherishing her interaction with customers.
"They have their different quirks but they make the job enjoyable and  I look forward to continue serving them," she stated.