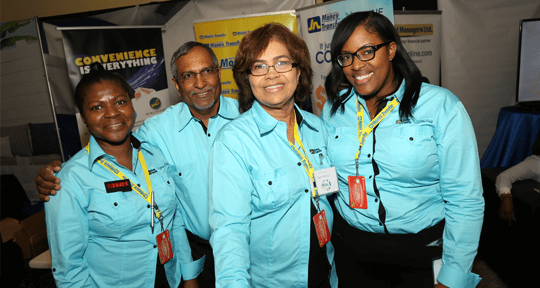 The JN Money Service team in Canada take a group photo at the JN Group Expo in Canada. From left are: Petrona Taylor, teller JN Money Transfer Scarborough Branch; Harry Boorasingh, regional manager, JNMS North East, JNMS (USA) and  Paula Fennell, regional manager, business development and agent Coordination, JN Money Services Canada (Ltd) and Sanya Wallace, Strategic Planning, Reporting & Budgeting Manager, JNMS
JN Money Services (JNMS), owners of the JN Money Transfer brand, has launched its website, www.jnmoneytransfer.com, a first for a fully-owned Jamaican remittance company. The online remittance service is currently available only to persons sending funds from Canada to Jamaica and to select countries across the Caribbean.
The service, launched on December 17, became available to persons sending funds from the United Kingdom in February.
"We recognise that more persons are seeking safe, affordable and particularly convenient options to send money to their loved ones in Jamaica. Our website will enable them to transfer money with fees as low as $1.99 from the convenience of their home, while on the go, or at work," explained Horace Hines, acting general manager, JN Money Services.
"We are appealing to the young and tech-savvy persons who prefer to do business online," Mr. Hines explained. "In addition, global trends indicate an increase in persons using the internet to conduct money transfers."
Customers in Canada were given first option, based on the number of professionals living in that market where there is a growing preference for online money transfers.
To send money transfers and pay bills, customers can simply visit jnmoneytransfer.com and signup for the service; which involves completing the registration. Once registration is complete, the customer can add a recipient, enter transaction details and then pay for the transfer by direct bank transfer. The direct bank transfer service is provided by INTERAC® online; a trusted funds transfer platform in Canada, while customers in the UK can use their debit cards.
"Via the website, customers can also send funds to accounts held at financial institutions, excluding JN, as well as pay bills in Jamaica. While, recipients in Jamaica, will also be able to access their funds at any JN Money Transfer outlet or at ATMs using the JN Money Transfer Card", Mr Hines outlined.